BOOK REVIEW: COLLAGE WORKSHOP FOR KIDS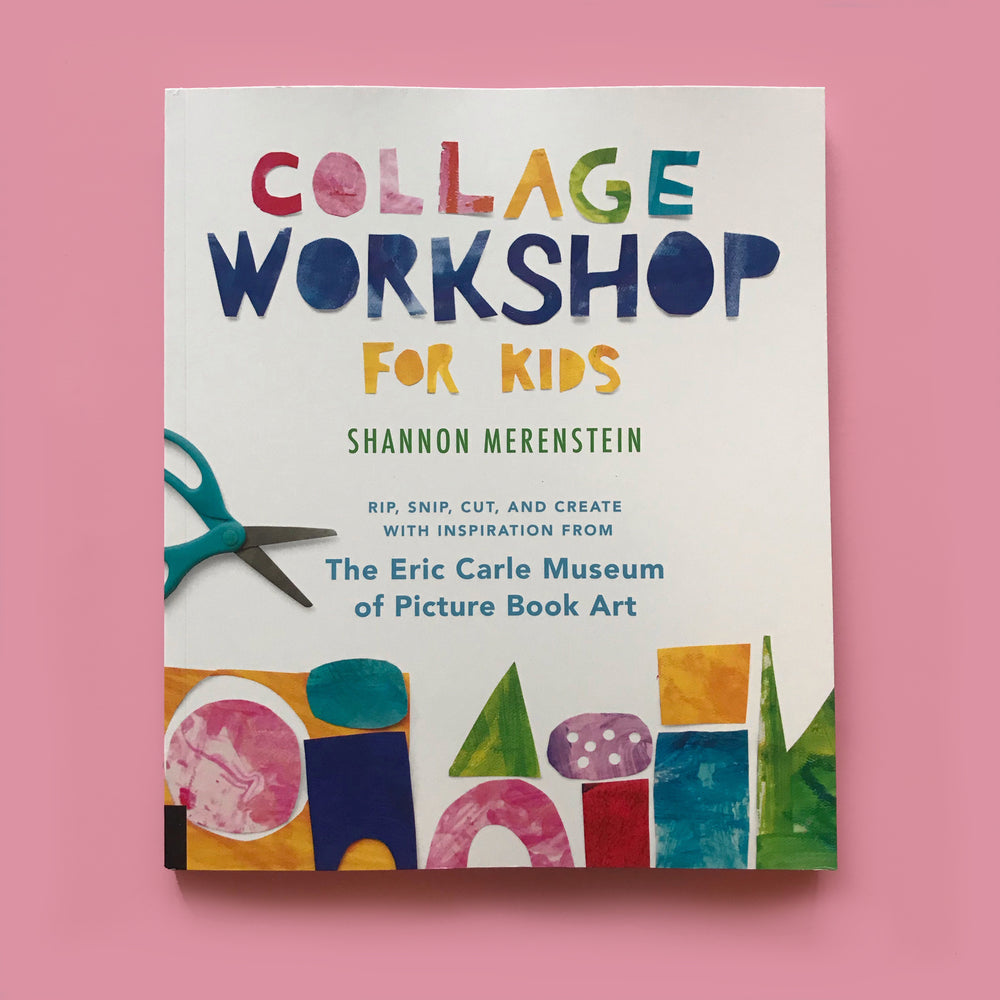 I first discovered the creative fun of Shannon Merenstein on Instagram where she shares images from her children's art studio Hatch Art in Pittsburgh in the US. Part art-making studio, part community-gathering space, Hatch is a place for people of all ages to explore, create, and imagine.
Her beautiful book Collage Workshop for Kids is a colorful art activity book all about collage techniques for children made in cooperation with The Eric Carle Museum of Picture Book Art. Each chapter of the book explores a different art theme including nature, faces, construction, contrast, wearables and storytelling. The projects within each chapter demonstrate how to work with a large variety of collage materials to produce beautiful, process art based collage creations.
You can purchase your copy HERE>>>
When you think about collage you might think 'well its just sticking scraps of paper' but it is SO MUCH MORE and Shannon demonstrates this through the huge range of varied activities in the book.
My little one loved this 'Playing Dress-up' collage portrait activity. We took some photos of her in different positions and printed them out. I set out a range of fabric, ribbons, tassels and other collage materials and she composed her outfits.
Another project we loved was the 'Look Inside' collage art box project. It's such a simple idea but created beautiful results; peering through small windows to a beautiful piece of art inside your box makes it a little magical. I love that most of the projects in this books use simple, inexpensive materials that you probably already have in your craft cupboard or around the house. To create this collage box we used an old Lego box but a cereal box would work well too.
These awesome 'City Block' houses were another favourite. We made these from some off-cuts of wood that we had from my husbands last building project. I love that you can actually play with these creations. Our block houses have now joined our big basket of wooden blocks all ready for construction and imaginative play.
As much as we love pretty much EVERY project in this book, I think these fabric capes are my favourite. Who doesn't want a colourful cape filled with flowers, hearts and joy? (I totally wish I could wear something like this out of the house.)
We have made a bunch more of the awesome projects from this book but I don't want to spoil it for you by showing your everything before your get your copy of the book!
So, to summarize the book includes:
24 exciting and engaging collage projects for children
Essays by art educators at the Eric Carle Museum of picture book art
Ideas for collecting and storing collage materials
Beautiful, full colour images
Suitable for ages 3-9 yrs
We stock this book and a range of other beautiful children's art and craft books in our MINI ONLINE BOOKSHOP >>>
SHOP OUR RANGE OF BEAUTIFUL CHILDREN'S ART & CRAFT BOOKS
On our website, we stock a small range of hand selected kids art and craft activity books. Each book has been tried and tested by myself and my little ones. We only stock books which are beautiful quality and I highly recommend.
See our full ranges of ART & CRAFT BOOKS HERE >>>
| | | | |
| --- | --- | --- | --- |
| Art Workshop For Children | Drawing Workshop For Kids | Adventures In Cardboard | Tinkerlab Art Starts Book |